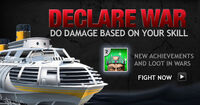 A war can be declared on anyone that isn't in your mafia from the
Fights
tab, the Declare War tab, or directly from a players Profile page. You can then rally others to help you in your war by posting it to your profile and to the news feed.
Each war has a time limit of 8 hours (less if you obtained Family Perks), after which you can then declare another war. A War can end in 2 different ways.
You and your mafia have defeated your opponents and their Top Mafia, or they defeat yours.
The timer runs out before all targets on one side have been taken out, in which case the person with the most kills wins the war. In the case of a tie the defender wins.

You may help your friends in their wars by clicking on their war posts and choosing a target from the opponents
Top Mafia
or the opponent themselves. You may also attack a target in your own war.
Your skill determines the damage that opponents suffer at your hand.
You can wound them ,
Take them out completely ,
Each target in a war will be displayed with a difficulty level, representing how hard the target it to take out.
The winning side of the war are awarded loot items. The leader receives 1 known item and 1 random item, and all helpers receive 1 known item. The rewards given are based on the current rewards Tier (see below) of the person that initiated the war.
You can also get revenge on those who fought against you by attacking them directly from the Declare War page.
The Mafia Size indicator does not include any
Hired Guns
you have since
Hired Guns
are not real mafia members and ca not respond to the war help request. However, if you do not have a
Top Mafia
set up, the 6
Top Mafia
spots are filled with
Hired Guns
. However to declare war you must have 6 mafia (excluding hired guns). You must be also be Level 25 to Declare a War.