"

We've got some sweet holiday missions coming up for you this month! Out now is Holiday Traffic, and Stuff the Bird is coming your way soon. You get to work on these limited time missions like you would on others, but these will bring you a whole new set of rewards. In Holiday Traffic, you'll be playing for rare items like the 'Roaring 20s' – a vehicle that comes with 35 attack and 62 defense, or 'Tetanus' – a weapon packing a powerful punch with 39 attack and 63 defense in the Stuff the Bird mission. Prepare your biggest and baddest mafia members to take action when these social missions roll out – you'll want to get plenty of backup before time runs out. It shouldn't be that hard getting your friends to help, as there'll be plenty of tempting rewards to thank them for their service. Now that you've gotten fair warning, be on the lookout for these missions and don't miss out!

"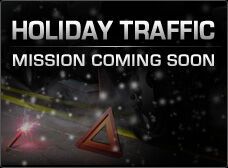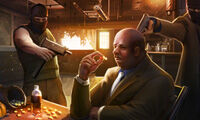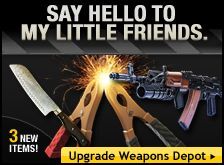 The Smokin' Double Barrels event also occurred during this event. It introduced five new weapons including two limited edition ones requiring giftable Gun Barrel parts made available only during the event.
Invite 10 friends to the Don's Dinner for Thanksgiving. Your invites will be posted on your friends wall. When they accept your invite they will show up at the "table". You have 4 days to get your table full and have a turkey dinner with the Don.
When you get your table full you'll receive a Wild Turkey. This mission can only be done once.
Blog
[
]
Weapons Depot Promo
[
]
"

It's time to lock and load because it's Smokin' Double Barrels! The Weapons Depot Building Event starts out with a bang when The Godfather provides you with a shipment containing enough construction parts to upgrade your Weapons Depot one level. Craft two exclusive weapons called The Predator Minigun and The Lock and Stock. They can only be built for a limited time and require special Gun Barrel parts. Work with your mafia by sending Gun Barrels to each other. You'll be able to make twice as many because the Weapons Depot crafting timer will be reduced from 24 hours to 12 hours. 3 additional weapons requiring Special Parts have been permanently added to The Weapons Depot. The event only lasts for 6 days so step it up and get crafting!
"
"

It's Thanksgiving and you are invited to Don's Dinner. We wouldn't want you to come alone so it's up to you to bring 9 of your favorite mafia members. To RSVP, simply log in and post special invites to your friends walls. When 9 of them accept, you will be rewarded with a Wild Turkey. This is no ordinary bird as it's stuffed with powerful attack and defense scores of 79 and 65. Help your mafia members by accepting their invitations and nobody will miss out.

"
Gallery
[
]